---
WHO ARE WE?
Lawler Group is an award-winning, multi-disciplinary team of highly qualified Building Services Engineers with offices in Kilkenny, Cork, Dublin, and London. We offer a range of engineering services including building services design, project management, sustainability, and low carbon consultancy. Our company is rapidly growing within all construction sectors including Education, Commercial, Residential, Healthcare, Retail and Hotels & Leisure.
OUR VISION
Lawler Group is to be a learning organisation that facilitates the learning of its members and continuously transforms itself.
A LOCAL COMPANY WITH A GLOBAL MINDSET
Lawler Group is headquartered in Kilkenny in the South East of Ireland. We also offer remote working opportunities and hire people from around the world.  
We hire for multiple roles based in Kilkenny so if you are considering a new role and a move to Ireland's Ancient East, keep reading to find out why Lawler Group in Kilkenny should be your next move. 
WHY LAWLER GROUP
Lawler Group is an equal opportunities employer. We have a vibrant workplace culture that promotes inclusiveness and is free from discrimination. We aim to promote individuality at every opportunity, while at the same time working together to achieve our common goals.
From excellent career progression to the opportunity to make a real difference in making businesses more sustainable, here are some of the many reasons to build a career with Lawler Group.
Fast moving and challenging roles
Competitive salary and pension scheme
Supported learning and development
Excellent work-life balance as well as a great company culture and Social Club
Exposure to a wide range of projects in exciting sectors
Close working relationships with senior managers and directors
Remote working
Bike to work scheme
Opportunity to work on innovative, challenging, and impactful projects
Excellent career progression in a company that supports your personal and professional development, through internal and external CPD
Attractive working benefits including private healthcare, and 21 days annual leave
Early finish on a Friday
Direct dealings with clients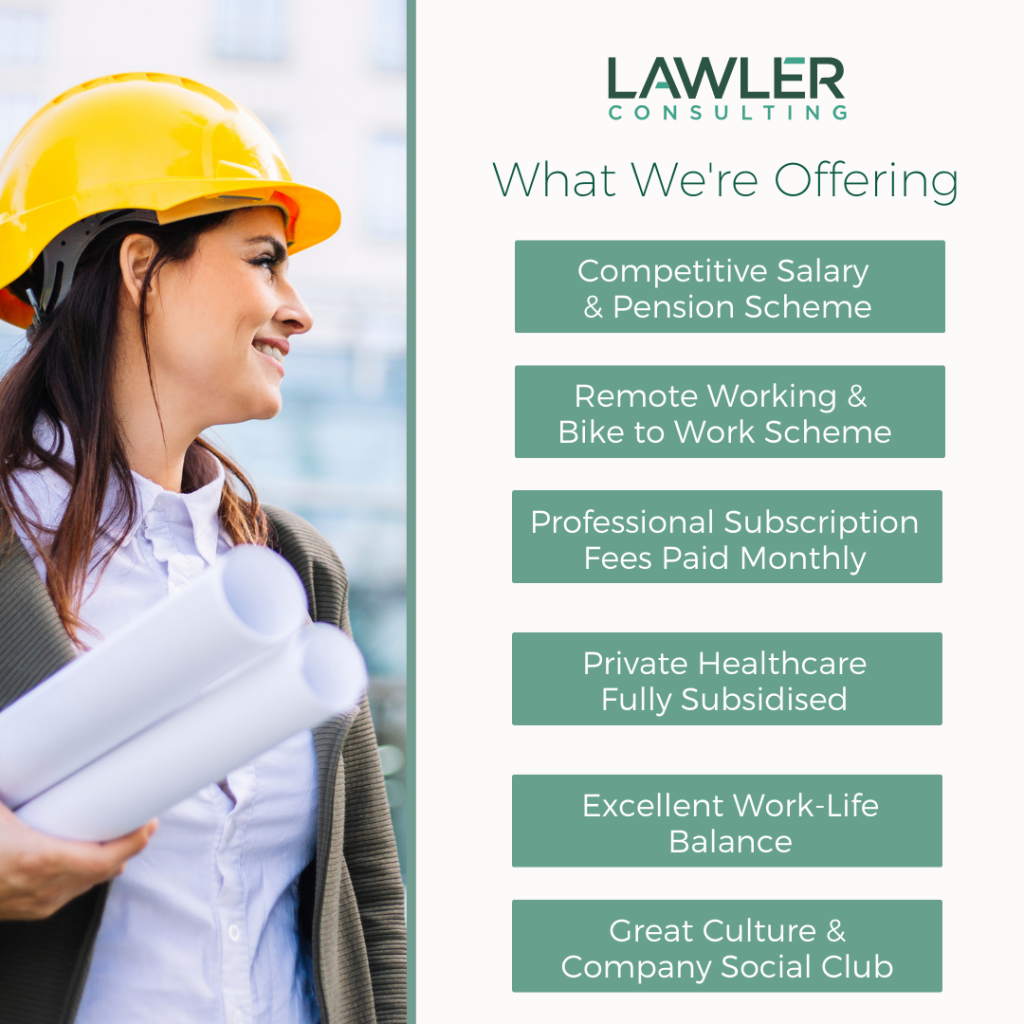 WHY KILKENNY & THE SOUTH EAST
Located in the South East of Ireland, Kilkenny is an attractive location for talented people and their families to live and work with a quality of life that other locations in Ireland cannot offer.
Kilkenny is an attractive location for talented people and their families to live and work with a quality of life that other locations in Ireland can't offer.
Kilkenny people have some of the shortest commutes in Ireland, with 64% of people who live there traveling 30 minutes or less to work versus 48% of people in Dublin.
Very competitive house prices and rental market
79 primary schools, including national schools and private schools
Three third-level facilities within 30 minutes including Waterford IT, IT Carlow, and NUI Maynooth
A wide range of childcare facilities including Montessori, pre-school, and daycare
Employees in the South East have 40% more disposable income compared to those living in Dublin
The South East is the 6th fastest-growing region in the EU
Very affordable region for first-time buyers