Why CSR and Supporting Charities is Important?
Giving back to the community is a priority for many companies and we are no different at Lawler Consulting. We believe it to be our corporate social responsibility to support and promote charitable organisations and programmes which will benefit from our efforts. In addition, during these testing times amidst a global pandemic, it is important for us to maintain strong relationships with our colleagues and team members through (socially distanced) group activities where possible.
Why We Chose Breast Cancer Ireland?
With October being breast cancer awareness month, we undertook some research and found that 1 in 9 women will be diagnosed with breast cancer in their lifetime, making it probable that this disease will effect each of us at some point in our lifetime. Following this, we found that breast cancer is not exclusive to women, it can affect men too, leading to over 25 men being diagnosed every year in Ireland. With this in mind, we decided to partake in The Great Pink Run to fundraise and raise awareness for Breast Cancer Ireland, a charity which works tirelessly to find a cure for this illness.
Our Goal To Raise Money For Breast Cancer Ireland
On the 16th of October, kitted out in our bright pink t-shirts, 26 team members took part in support of friends, family members and colleagues who have been touched by the disease. Taking place virtually due to COVID-19 restrictions, not only did we have members of staff walking, running and cycling in Ireland, but we also had team members participating in the UK . We set out with the goal of reaching a collective distance of 150 km, however we surpassed this target by totaling over 180 km over the space of just 7 hours!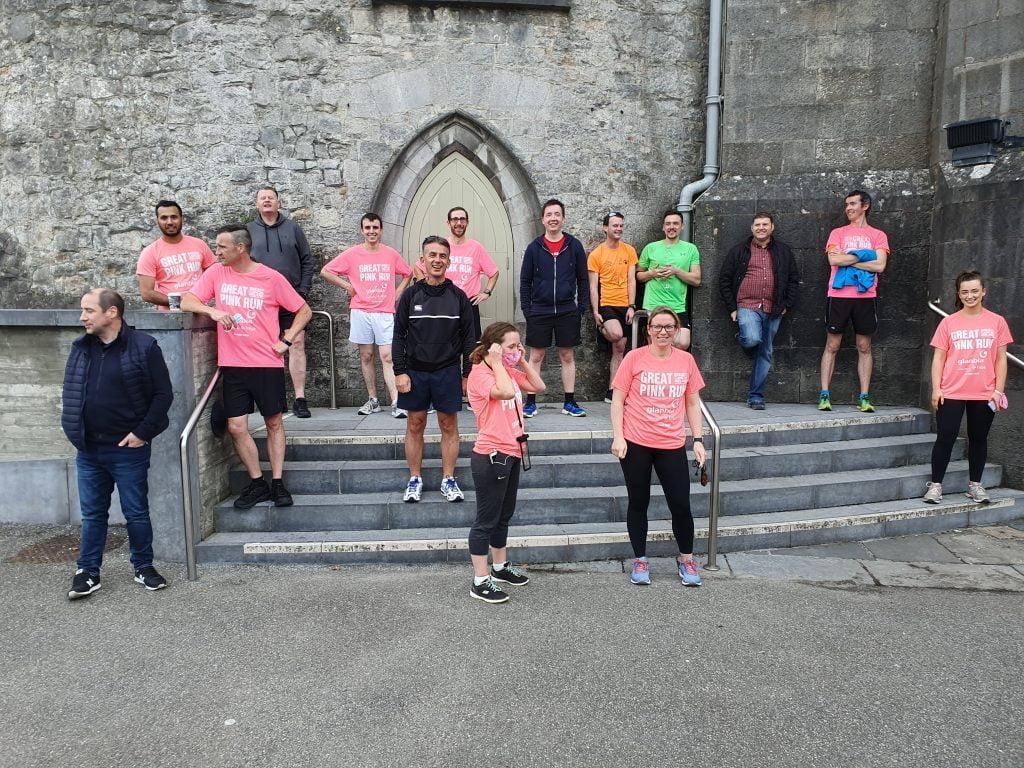 Thank You To All Our Sponsors
Our participation in The Great Pink Run was also supported by a range of local businesses, who donated fantastic raffle prizes to assist with our fundraising efforts. A huge thank you to Café la Coco, Crown Hair and Beauty, Dee Murphy Fitness, Donna Dunne Fitness, Michelle Fitness Kilkenny, Ruby Reds Hair Group and Pembroke Hotel for their support. In total, between the raffle and other fundraising through social media, we raised over €850 for the Breast Cancer Ireland, with the directors of Lawler Consulting and our sister company Lawler Sustainability contributing to this to bring our total to €2000.
Left to right: Ian Molloy – Associate Director, Elaine Diamond – Accounts, Niall Treacy – Design Engineer, Shane Bradley – Project Engineer
Special Thanks From Lawler Consulting
Special thanks from Geraldine Hogan, Finance & Operations Controller:-
Thank you again to everyone that participated, to all our local sponsors who sponsored us for spot prizes and everyone who donated – it was a great event and for a great cause.
For more information please check out our fundraising page by clicking the button below.
Stay up to date with the latest developments here – find us on LinkedIn, Facebook, and Twitter.